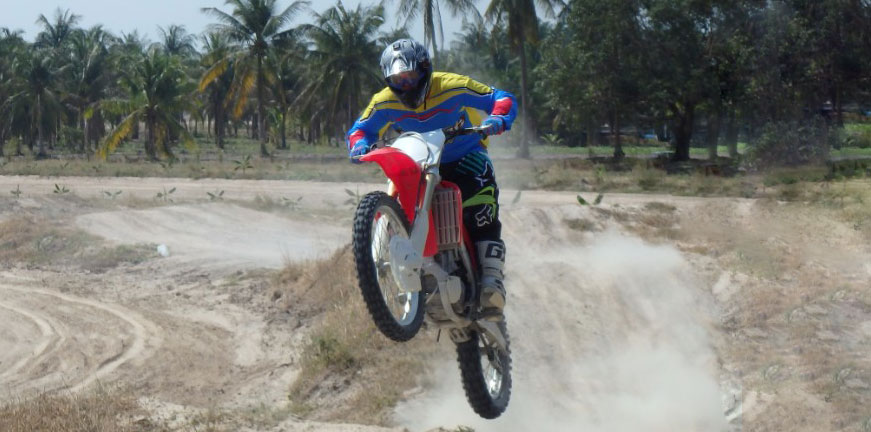 MX Enduro-Madness Training
Tracks N Trails Training by Enduro-Madness Pattaya offers expert motocross track training by our own expert coach and Thai Enduro champion Manoch Abudulkaree. We offer single rider training or group training sessions, max 2 riders. We use our immaculate Honda CFR250R Motocross bikes as they are extremely manageable and boast a seriously smooth ride.
We only offer a 3 hour training session as it's a seriously demanding ride even for pro riders. A popular option is a 3 hour morning session on our enduro trails before heading to the MX track after lunch for an afternoon of hard-core motocross.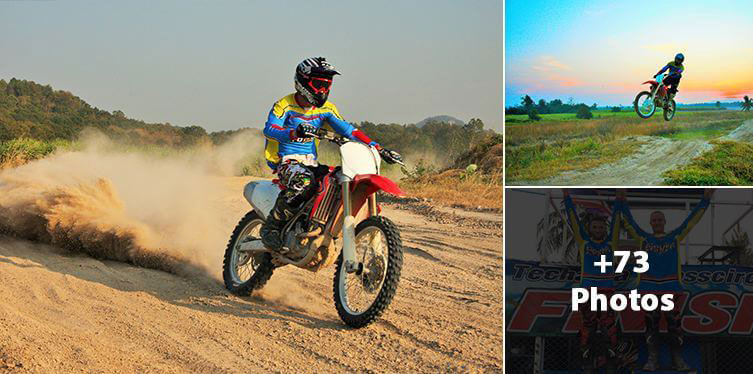 Half Day Motocross riding schedule
Hotel minibus transfer 2:00pm
Gear up at Enduro-Madness base
Transport to guides selected track
Track briefing. 15 minute warm-up laps
Specific skill training and guide coaching. Usually 10-15 minute riding followed by 10-15 minutes rest time
Showers and changing rooms back at base followed by hearty burger and fries with fruit platter dessert before hotel transfer 6:30pm
Full Day schedule
The full day tour will begin a hotel transfer to the Enduro-Madness base at 9.30 am. Get suited and booted in the best protective gear available for your tour. After you're geared up we'll hit the road with a 3 hours ride along some of Thailand's best enduro tracks and trails before heading back to base for lunch.
With the bikes and equipment loaded up onto our Enduro-Madness pick-up trucks after we will head to the chosen MX track. During the morning's ride our highly skilled trainers and guides will assess your skills and the choice of afternoon track will be decided riders levels of experience and skill. Once we arrive at the chosen track our trainers will offer tips and coaching aimed to improve your riding skills.
A tougher option is a full day's training but an enjoyable day's ride offering great tracks and invaluable biking knowledge. We can promise you two things by the day's end, one you will be smiling from ear to ear and secondly your riding skills and ability will have vastly improved – our guarantee!!! After a day's ride on muddy tracks and trails it's back to base for a hot shower and complimentary cold beer before your hotel transfer in our comfortable air conditioned minibus.
Prices:
3 Hour MX coaching = 5,500 THB/ rider.
3 hour Enduro + 3 hour MX coaching = 7,900 THB/ rider.