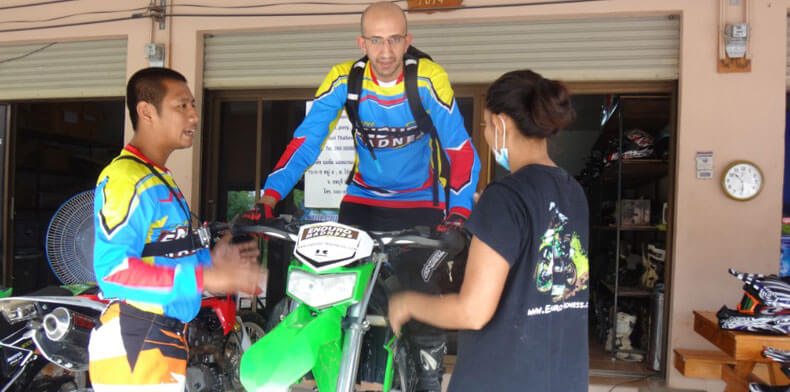 Beginner / New Rider Training Tour
If you have no previous geared motorbike experience we would recommend the full day's training tour and can guarantee you will be a competent rider by the end of the day. The half day tour is available if you feel your fitness levels are too low for a full day or if you have limited time. We would always recommend a full day as three hour is a limited time for a beginner to learn all the skills necessary to become a competent rider. Confidence is key when riding trail bikes off-road and a full day really allows you to relax into your ride without any feeling of being rushed by any time restraints. For the full day or half day training tour all we ask is for is a little patients and a lot of enthusiasm and your be walking away a competent rider guaranteed.
The standard training tour users our Honda and Kawasaki 250cc bikes, which are comfortable, built like tanks and offer a smooth ride. We also offer two KX 140cc, three Klx 150cc bikes and a Klx 125cc all similar to the larger bikes but are smaller and have a much smoother ride for riders with less confidence. Making them perfect for beginners offering a lot more control and ease of balance if you need to stop. The key is to be the boss of the bike and not have an overpowered bike boss you!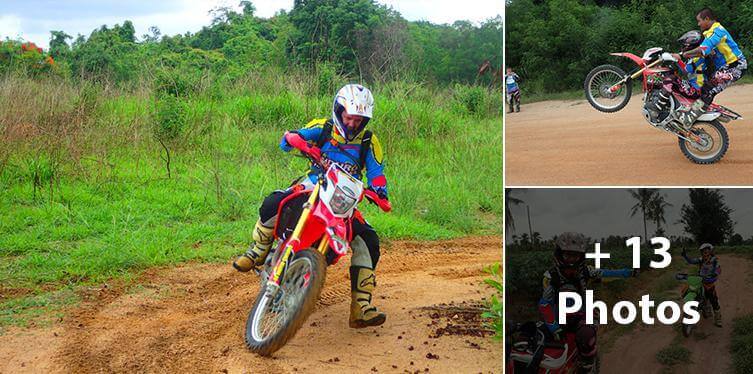 The tour will begin with a 9.30 am hotel transfer. The Enduro-Madness minibus will drop you at our base at around 10:00am where you will be geared up from head to toe in the best body armor and protective clothing to put you totally at ease during your training. Once you're suited and booted we will take you through a safety brief and take you through the steps of using a geared bike. Then it's onto the bikes where you will learn clutch control and how to move off. We will slowly move up through the gears allowing you to get comfortable in gears 1-3 before heading to our practice track to learn specific riding skills like turns etc. Once you're comfortable with clutch control and first gear you're 70% on your way to becoming a competent rider.
Tracks N Trails by Enduro-Madness is more than happy to guarantee you will leave us a competent rider by the end of the day and our success rate of 100% since 2008 only supports this.
On the "Zero to Hero" full day tour, once you're comfortable riding we'll head out on a trail to our lunch stop set in the middle of the Thai countryside. After a lunch we will hit some great tracks and trails chosen by our skilled tour guide depending on how well you have picked up your new found skills.. All trails are chosen with your skill levels in mind and you will never be pushed to try anything you feel you're not ready for. After an afternoon riding on some of Thailand's best enduro tracks it's back to base for a hot shower and an ice cold complimentary beer before transfer back to your hotel. At the end of the day you will be able to say with pride you CAN ride a dirt bike and relax basking in a huge sense of achievement. Once you have been trained by our dedicated instructors remember you can use your new found skills whenever and wherever you want knowing that you have been trained by the best of the best.