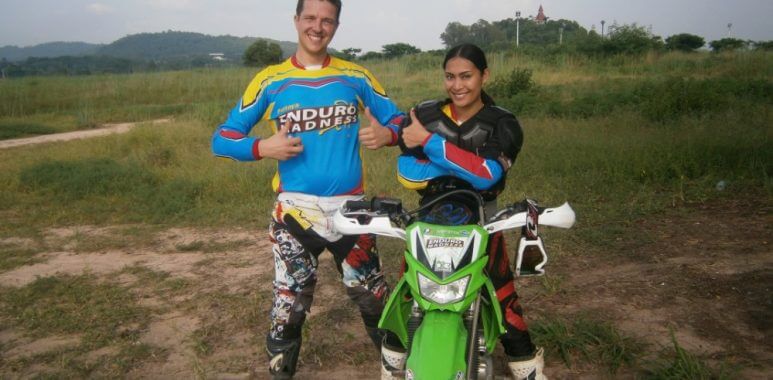 Tracks n Trails Tour testimonials
What an adventure! I took the 2 hour tour with Tracks N Trails and had a brilliant time. I was picked up from my hotel in pattaya and transferred to the bike centre in 15 minutes. Upon arrival i was given a safety briefing with riding tips and full details on how the bike worked and what to expect. Jonny has been riding the trails for years and explained we'd be off road for 99% of the trip which turned out to be true. The brand new bike (kawasaki250cc) was much easier to handle than i thought with the perfect balance of power and safety, perfect for a begginer like me but more then enough power to keep me interested! 
I was kitted out in full riding gear, boots, body and leg armour and top class helmet and goggles. Jonny carried first aid kit and water etc in his back pack so i felt safe and secure from the start. We were into the action right from the start riding on wider dirt tracks with undulating terrain and tighter sections as we developed through the stage.
It was great to see the local pineapple and tapioca farms with friendly local workers waving from a far. I enjoyed riding round the edges of the lakes and taking a break in the thicker forest sections. The balance of the tour was great with distance between breaks just right. We were just over 2 hours on the trails and it was more than enough for my out of shape body. Jonny kept a safe distance ahead and the only time i had a problem was getting the bike back into the right gear after i had stalled at low speed he was already back down the trail and helping me out.
A perfect way to see another side of thailand so close to the busy streets of pattaya but so far removed from that. Next time i may bring my girlfriend they have a smaller 140cc Kawasaki which would suit her just fine. An excellent adventure 5/5
All the best Jonny, see you next time.
Rob
Gareth Helicopter technician from the Uk.
I found Jonny's website by accident after looking for mountain bike trails near Pattaya. Having ridden road bikes on and off for the last 25 years I fancied a go at off road riding. After a quick chat on the phone we arranged for Jonny to meet me at my house and take me to Bike Lane where he keeps his bikes, Kawasaki 250′s.
A couple of forms to fill in, got kitted up in gear that fitted and worked (especially the armour), Jonny then talked me through some basic riding tips for off road, then it was straight out on to the trails. Being a first go I booked 2 hours and it was a good 2 hours riding, couple of stops for water and a couple of stops when I got stuck and 1 stop for a slight crash after getting to cocky and trying to go quicker than I should.
The pace was good for a beginner not to fast and not to slow, the tracks were a combination of wide sandy trails, thinner less sandy, a few step ish up hill sections and some rutted up tracks, and the minimum of tarmac roads. Value for money was brilliant, by time we got back to Bike Lane, I was soaked in sweat, a few bruises, but a smile from ear to ear, and will definitely be giving it another couple of go's.
10 minutes outside of Pattaya is a side of Thailand most holiday makers and possibly a lot of the expats living here do not see, I throughly recommend Jonny and his bikes to both tourists who want a day out of the bars and also to the expats even if its something different to do for a few hours or a day.
Gareth.