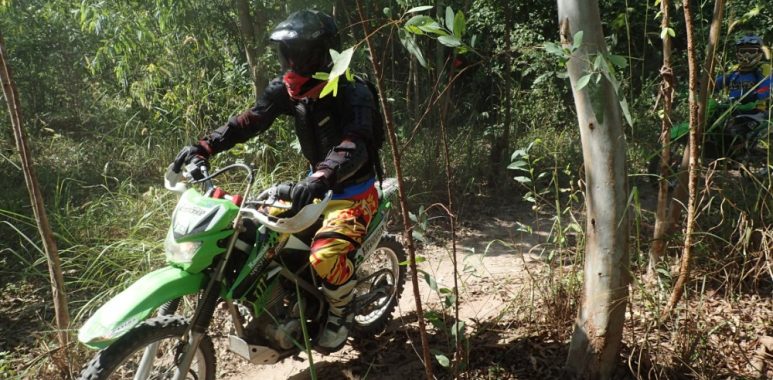 Dirt Bike Adventure Tour Pattaya Thailand with Thor from Sweden
While staying in pattaya for a couple of weeks Thor came across a Dirt Adventure Pattaya brochure, he promptly called me up to get all the info about the tour and with that made his booking.
Thor works as an industrial welder back home in Sweden and has ridden motorbikes for years although road bikes, Street fighter style.
This was to be the first taste of two wheeled off road action for Thor and he really took to it quickly and soon into the ride looked natural on the bike.
At one section on the hill climb the trail is strewn with rocks, small loose ones up to big rain washed boulders sunk into the dirt and sticking out like street cones, I picked my line and chugged up on the Kawa KLX250 to the top of the section, I stopped at the top to check out how Thor was to deal with the rocky climb, He sailed up the first part but went a little off line and got the front jammed against a rock, he threw down his legs and wrenched the bike around to get the front pointed to where he could give it another squirt and get going, he did this and then navigated the bike up and around the rocks getting it to the top easily, I was impressed that a bike rider who never rode on the dirt could accomplish something like this in the first go.
The rest of the ride was easy from then on and Thor seemed to have a cool time as did I. I have loaded the video below as well as a few of the snaps from on the trail.