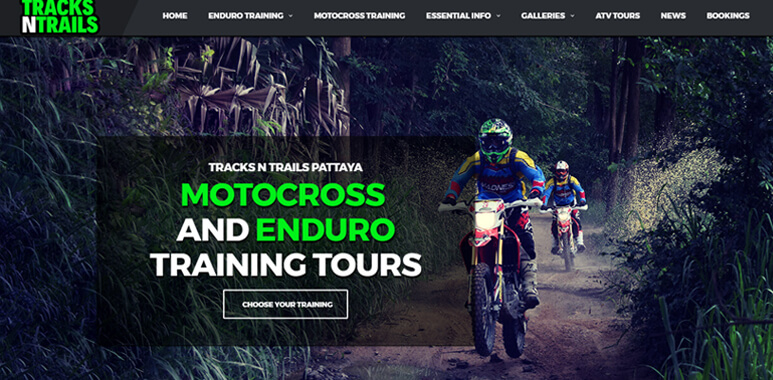 Dirt bike riding @ TnT Pattaya
Dirt bike riding, sometimes known as motocross, is a sport enjoyed by a range of people of all ages. Dirt bike riding is sometimes competitive and sometimes recreational. Despite the name, dirt bikes are not, in fact, regular bicycles; instead they are motorcycles. Some dirt bikes are the size of a small motorcycle or large bicycle, but some bikes, called mini-bikes, are considerably smaller, more the size of a child's bicycle. Instead of riding their dirt bikes on the street, as most motorcyclists do, dirt bike riders take their vehicles off-road, as the name implies, into the dirt. Because riding a dirt bike can be dangerous, proper protective gear such as a helmet, knee pads, and elbow pads is critical. A dirt bike rider can also add gloves, goggles, a chest protector, and motocross boots to be even safer. Some riders also use mouth guards and forearm guards, kidney belts, and pants with knee and shin guards. If the rider is participating in a race, safety gear beyond the bare minimum is recommended because the rider is traveling at high speeds and can easily wipe out or crash. Surprisingly, regular exercise is recommended for dirt bike riders to stay in top condition. You wouldn't think that riding a motorcycle off-road would require much exercise, but increased stamina, strong muscles, and whip-fast reaction times (sharpened by regular practice) can greatly improve a dirt bike rider's success on – or off – the trail. Other keys to success are sitting on the bike in the proper position, mastering the differences between riding a bike on dirt rather than on the street, and managing the mechanics of driving a motorized two-wheel vehicle (such as accelerating, shifting gears smoothly, and braking). The timing of these mechanics is crucial to maintaining control of the bike – downshift properly while you're braking, for instance, and try not to lock the tires while you're braking. You have to learn how to maintain traction in sometimes difficult conditions, as dirt surfaces provide a different riding experience than paved surfaces. Shifting gears can be a challenge if you're used to automatic transmission vehicles. When you're shifting gears, you must manage the throttle, clutch, and the shifter, not as separate pieces of the experience, but as one integrated whole that lets you shift up or down smoothly.
Once you've mastered the basics of dirt bike riding and are properly outfitted with safety gear, you can try racing your bike or even doing tricks. Rather than staying on flat terrain as you probably did when you were learning how to handle your bike, you may want to tackle hills. Some dirt bikers jump drop-offs. If you're interested in doing these things, be sure you have completely learned how your bike handles and how to pull out of dangerous skids and other situations that might compromise your safety. The best way to learn your bike and the proper reaction to various riding situations is to ride and ride some more so you stay in practice.